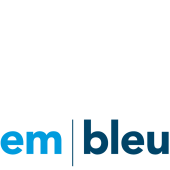 em | bleu (EM9305)- Standard Protocols
SMALLEST AND LOWEST ENERGY CONSUMPTION BLUETOOTH LOW ENERGY CHIP (v5.3)
What is it?
em | bleu is a versatile single chip Bluetooth Low Energy solution for the smallest and lowest power consumption connected devices. In a market with billions of Bluetooth devices sold every year, em | bleu stands out for:
As small as a pen tip, EM9305 is the smallest BLE chip that will fit anywhere.
True Ultra Low Power performance for sustainable lightweight applications, always ready-to-use.
Robust RF performance for transferring large amounts of data in noisy environments, and over long distances;
Cost-effective implementations with a small bill of materials (BOM).
In a few words
True Ultra Low Power for long device lifetime with coin or button-cell batteries, and applications based on energy harvesting:
Versatile communication protocols.
Smallest footprint.
Smallest BOM.
Easily integrated in small devices.
What are the applications?
Data Transfer

Sports and Fitness
PC Peripherals and Accessories
Health and Wellness

Location Services:

Asset tracking
Indoor Navigation
Personal Item Finding
Digital Key

Broadcast Audio:

Hearing Aids and Headsets
Smart Speakers
Digital Microphones Asset

Device networks:

Smart Home
Control and Monitoring Systems
Automation
Industry 4.0

Automotive aftermarket

Infotainment system
Digital key
Accessories
But technically how does it work?
EM9305 can be used both as a standalone System-on-Chip (SoC), or as companion IC solution embedding any ASIC or application MCU.
Your custom application running on an ultra-low power 32-bit ARC processor
DSP and floating-point units can optimize advanced algorithms for audio codecs and sensor fusion.
Low-power serial interfaces (SPI, I2C, I2S, and UART) communicate with external sensors, memory, display, or touch drivers.  
EM9305 can directly be connected to a USB port of a PC. 
Bluetooth 5.3 link layer, Host Controller Interface (HCI), stack, profiles and services.
Bluetooth 5.3 features, including High Data Rate (HDR) and Long Range (LR) communication.

EM9305 includes a sophisticated on-chip power management system supporting 1.5V or 3V batteries, and can be directly powered from an attached 5V USB port. It can operate down to 1V, which is perfect for energy harvesting applications. An inductor-less mode for 1.5V batteries can help further reduce the BOM. All 64kB of RAM memory can be kept in retention during sleep, or in 4kB increments to optimize leakage. A stable, low-power low-frequency oscillator minimizes power consumption while in a connected state or RTC operation. Current consumption is minimized for all modes of the application utilizing an efficient scheduler and memory manager.
EM9305 features a state-of-the-art 2.4GHz transceiver: a low-power receiver with excellent sensitivity/selectivity, and a programmable transmitter for optimized output power and energy consumption.  For long range or difficult enclosures or antenna designs, the transmitter can be programmed up to +6dBm output power.
The PCB footprint and cost are minimized with a very low external component count and several package options. The circuit is offered in a WLCSP23 wafer level chip-scale package, a plastic QFN-28 package, and bare die/wafer form. The device and reference design are available over the industrial temperature range.
Features
ARC EM7D, 32-bit MCU cadenced at 48MHz:
DMA
DSP
FPU
64kB ROM
512kB Flash memory (code and data)
64kB data/instruction RAM, all retainable starting from 4kB
UART, TIMER PWM, I2C, I2S/TDM and SPI slave/master
USB, QDEC
12 GPIO on QFN, 10 GPIO on WLCSP
Full Bluetooth 5.3:
High Data Rate (HDR) and Long Range (LR) support
HCI Transport Layers (SPI and UART)
Security Features:
Secure boot,
True Random Number Generator
AES-128 Hardware Encryption/Decryption Engine
Key Generation (ECC-P256)
Secure Key Containers
Secure lifecycle management
Power Efficient Management System
Digital step up/down DCDC operation supporting 1.1-3.6V
Inductor-less voltage multiplier mode for minimal BOM 1.1 – 1.9V
Additional mode (4.4-5.25V) usable also with USB port supply
Low frequency RC oscillator time base
Low Current Consumption at 3V:
3.0mA typical receiver current
3.5mA typical transmitter current at 0dBm
220nA in deep sleep mode (no RAM retention)
7nA in disable mode
High Performance RF
-94/-97/-103dBm RX sensitivity for 2Mbps/1Mbps/125kbps modes and 37 byte payload
-57dBm to +6dBm transmitter output power range
Low Component Count and Cost:
Single ended antenna pin with matching network
Minimal DC component network
48MHz XTAL
QFN-28 (4x4mm), WLCSP23 (1.8x1.8mm), bare-die/wafer
Operating temperature: -40°C to +85°C
Package
WLCSP23 1.8x1.8mm, 10 GPIO
QFN28 4x4mm, 12 GPIO
Die/Wafer
Please contact us for more information.